We started off our second day in England by sleeping. A lot. We woke up around noon – totally missed the free breakfast. And as much as I was sorry to lose so much time in our hotel we really needed that sleep.
Headed out around noon:30 and hopped on the tube to hit the British Library, which my mom told me I had to go to. We stopped on the way for lunch at a nice, classic pub. The bartender there let me sample pretty much all the beers on tap which totally started me out right since that was our breakfast. We had yet another great meal – a cranberry, brie, and bacon sandwich for me and 1 kg of cajun chicken wings for Cam. (Did you know that 1 kg is, like, 2.2 lbs? Interesting fact: I totally thought it was less than a pound. What?! A kilometer is less than a mile! Anyway, important lesson here. Cam did not finish the wings.)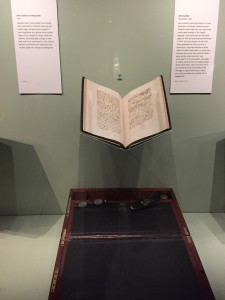 The British Library WAS very cool and had a fabulous exhibition of publications and artifacts throughout history. I got a picture of Jane Austen's writing desk! And then I almost got thrown out for taking photos in the exhibition room so that's the only photo.
After the library we proved our mastery of the tube by taking it partway back to the hotel and then stopping off at Buckingham Palace. Didn't see the queen anywhere, though we did overhear a couple discussing "King Donald" which seemed completely horrific and not unlikely enough. Wandered some through the area parks and shot some photos and then took the rest of the return trip to the hotel by foot.
An hour and some nicer clothes later and we headed out for dinner and show in the West End! Dinner was pretty simple but once again yummy – pizza and bruschetta from a Naples restaurant around the corner from the theatre. After dinner we had some time to kill so we wandered the West End. We found an interesting comic book store and a street vendor selling scarves so I took this opportunity to haggle a little and, voila! my UK scarf.* Then we headed to the theatre for the world's longest running show, 'The Mousetrap.'
Now I can't tell you much about the show – they swear you to secrecy at the end since it's a "who-done-it" and they don't want it to be spoiled for anyone. That said it was entertaining and I did not "see it coming" so to speak so I'd definitely recommend it.
* Scarf explanation: I like to buy scarves when I go places so not only are they nice to have (you can never have too many scarves!) they also have stories and memories right off the bat.
Add-on: Want to see what we saw at Buckingham Palace? Check out our Street View!