Cameron and I are married!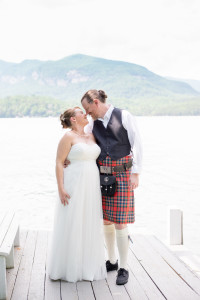 We got hitched Saturday, May 16th, 2015 at the Lodge on Lake Lure in the mountains of North Carolina. It was a bit warmer than we wanted so we wound up getting married up by the lodge instead of on the dock. But it was a beautiful spot and – as it happened – right outside our room. We had a great officiant and got to come up with our own vows. We both cried. Our parents cried. I think everyone cried. It was great!
We had a lovely dinner afterwards and our siblings and parents got to hang out and enjoy the lodge. Skye and Ben took excellent care of Nala for us so Cam and I could relax after a very busy day. It was really beautiful and a great weekend all around.
Pictures! Our wedding photographer took a bunch of good ones for us and you can see the album on Flickr. Here's one to tide you over, and another we took the evening before after a great dinner at my parents cabin on Lake Adger. Nate and Cyrus gave me the flowers for my hair. <3