I wanted to write up a recap of the trip. Several folks have mentioned wanting to do a trip like this, so I thought I'd pull together our thoughts and tips. If they're not helpful for others hopefully they'll at least remind us what not to do next time…
1. Booking a travel agent was a GREAT idea. For us. In this circumstance.
I have planned trips online before and I enjoy planning – I'm the planning type. But when it came time for this trip it didn't take me very long to figure out this was out of my league. We just didn't know enough about the country to even know what to plan. We found our travel agent Andi, with The Travel Agency, Inc., through Angieslist and I would certainly recommend them. Yes, there are some things I would've done differently on this trip, and one or two instances of confusion or miscommunication. But all our tickets worked, our reservations were in place, and her advice on what to do and how long to spend in the various places was great. And we had the flexibility to change the things we needed to, and to choose our activities in the various ports of call. This was a great trip and that's thanks in large part to our agent.
2. We shoulda spent more time in Edinburgh.
And in our travel agent's defense, she told us that. But I didn't know much about the city and was anxious to spend more time in the highlands, so we only had one day there – half a day really. But it was the coolest city and is at the top of my let's-go-back-and-do-this list.
3. Taking the red-eye is never a good idea.
Oh geez. I already knew this. I know I said it to myself (and probably out loud repeatedly) after my last conference on the west coast. But somehow I thought it would be different heading to Europe. I was counting on both of us sleeping through most of the flight and arriving tired but excited the next morning, and I naively assumed our thrill at being in London would more than make up for any exhaustion. In reality, neither of us slept at all on the plane, and Cam's stress over flying made us both extremely tense. Rather than heading out on arrival we needed a three-hour nap when we got to our hotel – and it remains the best thing that happened to us on the whole trip that they were able to check us in when we arrived (at 8:30am).
Leave during the day. You'll lose the day in travel but you'll lose it anyway in exhaustion.
4. Plan and investigate wireless and Cellular coverage.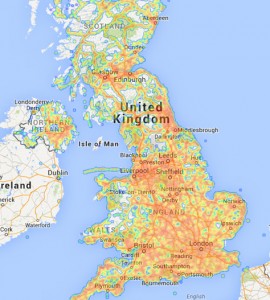 So we did this – kind of. We brought an old phone with us and bought a SIM card at the airport that included 250 UK minutes and 1GB of wireless. Great value for £20. The problem came when trying to call. We were able to call locally, but couldn't call home (and it turned out we wanted to thanks to a minor family emergency. That call cost us $15). Also texting wasn't possible except over wifi, and then only to people on iMessage (we have an iPhone).
Also, the coverage for our particular plan company (Vodaphone) was very poor in the more remote areas, or even in the larger cities of the Scottish Highlands. Do some research on the major carriers before you go. And don't feel like you need to buy from the first phone kiosk you see at the airport. There were many more options beyond the main terminal and we should've waited.
5. Know your Traffic Signs/UK Driving Tips.
Cam did prepare for driving in the UK. He looked up signs online and he even played a video game that had him drive on the left. And he did great. But the traffic, and driving on the left, was still tough.
I knew the Brits liked roundabouts – I didn't know they liked them so much. They were everywhere. Constantly. And some of them were really tricky. They generally mark their lanes well, but in traffic you often can't see what lane you should be in to get off on your roundabout "exit" until it's too late. Most roundabouts have signs letting you know the exits but that's often a LOT of information to process in mere seconds and they're easy to misread. Some have stop lights IN the roundabout (??!?). But almost inevitably you have to change lanes – not that it matters because people drive wherever they wanted and I swear most of the lane markings are long gone.
The signs are also tricky because they don't do N/S or E/W on their highway designations. So at a roundabout you may have two exits for the A82 – one that goes to one city and one that goes to another. Hopefully you know which one is in the direction you want to travel…
Then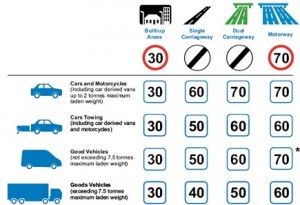 there were the speed limits. I wouldn't have cared but Cam likes to follow the rules so he was constantly trying to figure out the speed limit, and there were times when nothing seemed to be marked for miles. We finally worked out that the signal that is a white circle with a single black line across it is the indicator for "use national speed limit", and that the national speed limit is 60mph (to be fair, this is in Scotland; we only drove while in Scotland). It wouldn't do me any good to try to explain how utterly unfit many of the road were for going 60mph — think narrow lanes, trucks, and blind corners. And many of these roads allowed for passing, which took things to a whole new level of crazy.
The Recap Recap
As I've said, it was a wonderful trip. We got to see a whole lot of the country and do many of the things we wanted to do. We stayed at great hotels and ate very well, especially on for some of our splurge meals (although most of our favorite foods were not the fancy ones!). There were still very stressful times, and of course the weather didn't cooperate. But on the other hand by going earlier in the year we avoided a lot of traffic and crowds, which was very worth it for us.
If you have any specific questions about where we stayed, what we did, or why, please feel free to contact us — we're happy to help! Our only other advice would be this: if you're thinking about going, do it! 🙂